I'll admit, I was starting to get a little burnt out with my Sunday Blessings every week, but I'm back after some much-needed time away. Going AWOL on my Sunday Blessings link-up was exactly what I needed to gain some perspective and examine if it was something I really wanted to continue doing. Turns out- I do! Counting my blessings is what this blog is all about and it's a good way for me to consciously reflect on what God is doing in my life.
So without further ado, here are my...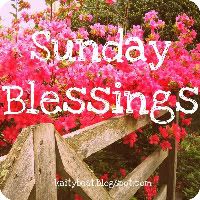 I sincerely hope my level of enthusiasm for my impending wedding day is not completely obnoxious to those of you who read this blog, but for the first time in my engagement, I'm actually genuinely excited for my wedding day. The overall stress of trying to plan this event has pretty much subsided (thanks in large part to all my amazing family and friends who are doing every thing they can to help out) and now I'm just anxious to get the party started. It occurred to me that this will likely be the only opportunity that ALL of my friends will be together in one place for me to enjoy! I can't wait to spend an entire weekend celebrating my love and commitment with the people I hold so dear.
This will likely be the first time you've heard a peep out of me all weekend (I'm writing this on Thursday) because we're in Wilmington for a few days! I'm really excited to unwind and spend some time with my friends and Chuck's family. Chuck and I are both very family-oriented people, but I'm starting to learn that whereas I can manage having lots of phone calls broken up with a visit here and there, Chuck has almost a physical need to be with his family. It's something I love about him, and I'm so thankful that he has a great family to be with!
I don't know a way to say this that doesn't sound completely silly and cliche, but I genuinely appreciate the handful of blogger ladies I've met over the last few months. It's so wonderful to be invited into your lives and to feel involved in the celebrations, the adventures and the life-changing events you go through. Thanks for inviting me in :)
I know I already mentioned family, but my Mommy deserves a category all her own. My sister and I were joking not too long ago about how my Mom is not exactly conventional, but no matter what life experience we go through, she's usually always right. We may get huffy and defensive, but in retrospect she's always teaching us, guiding us and helping to mold us into beautiful people. I can't imagine getting married without her. I love her so much.
How has God been blessing you lately? Grab a button and link-up!