The first Sunday in June, hooray! Is it just me or is time flying by? How is it summer already?! Life is chaotic to say the least on my end, but I'm so incredibly thankful for where I'm headed the next few months.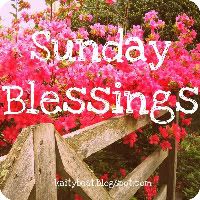 love
Three months until I'm hitched! With only 3 months left to go, it's beginning to sink in just how huge a deal this is. Chuck and I had an amazing conversation where we both admitted to each other that there are times that we freak out a little bit over our upcoming nuptials. I read all these blogs of girls who are betrothed and sound so sure and confident in their wedding plans. I can't be the only person to experience these fears, right? It occurred to me that maybe these same girls are not being entirely honest about their feelings and I pledge to be 100% honest about my emotions as I head toward the altar.
Am I in love? Hell yes! Confident that Chuck is the perfect person for me? Without a doubt. Intimidated by the seriousness of the vows I'm going to be taking? Most days, very much so. I'm just glad Chuck and I have the sort of relationship where we can communicate these fears. There is no hurt or distrust, simply and open and honest partnership. Which only serves to strengthen my confidence in us as a married couple.
health
I think this is a new category in my Sunday Blessings, which is just plain crazy! I'm all about healthy eating and living, so why am I just bringing this up now? Well, because although I eat relatively healthfully, I've been a lazy butt these past few months. With less than three months to our Big Day, I'm committed to getting myself into top-notch wedding-ready shape. Yesterday was Day One. I went to the indoor track on campus and just ran. No keeping track of miles, minutes or laps. I listened to my body, ran until I couldn't anymore and felt great at the conclusion. I'm ready to be healthy and fit!
job
This is my last week working at the health club! I'm thankful for the amazing people I've had the opportunity to meet, the flexibility this job has allowed, and the fact that I've gotten some major reading in on the clock! While I don't at all take for granted the past 10 months there, I'm so looking forward to the changes ahead.
What are you thankful for this week? Grab my button and link-up below!