Oy! It's been a hot minute since I've rounded up my favorite blog posts, but I seriously love doing these posts because there is so much goodness to be found in the blogosphere! So, I won't ramble on for too long, but here have been my favorite posts as of late: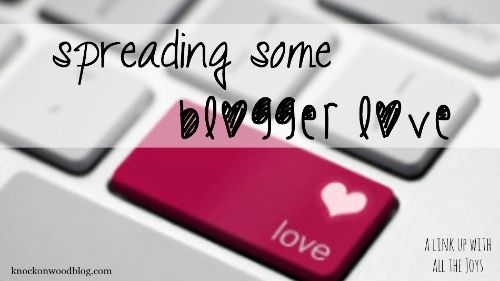 Food As a Love Language by musicalpoem | Because food is my love language and this post was simply lovely.
Buying Your First DSLR by Oak & Oats | Occasionally, I'll read an actual, practical blog post. I've been wanting to invest in a good DSLR for awhile now, but dang they are expensive! This is a good post to come back to whenever that time does come for me... *sigh*
5 Things to Say to the Working Moms in Your Life by (mis)adventures | Hello?! Have you met me? I'm a freaking mess of a working mama and this post brought real tears to my eyes. So. Much. Yes.
The Big News! by The Falcon's Nest | She doesn't know it yet, but I'm determined to make Nicole my blogging bestie. She's one of those bloggers who I feel like was meant to be an IRL friend and I am soooo excited that she's going to be adding to her brood. (Nicole, if you're reading this, sorry I'm so creepy...and also about the morning sickness).
Why I Feel Guilty about Being Pregnant by Katie Did What | This post resonated with me so much. I actually kind of lost touch with a couple women in my life who were struggling with infertility at the time that I became pregnant with Charlie. Through no fault of their own, but the guilt I felt just overwhelmed me and I wound up being a total asshat and distancing myself from them altogether.
Go Set a Watchman by Begin Anyway | To Kill a Mockingbird is my all-time favorite book, so after all the controversy surrounding Harper Lee's recent publication, I decided against reading it. If you've been on the fence, this is a really good post that helps to clarify and set the record straight about Go Set a Watchman.
Do tell- what bloggers have you been loving on lately?