Is there anything better than stumbling upon new blogs to love? That's how I felt when I discovered Meagan at
All the Joys
and as it happens, Meagan loves to spread the blogger love, too! I'm so excited to join up with her weekly link-up to share my favorite blog posts of the week: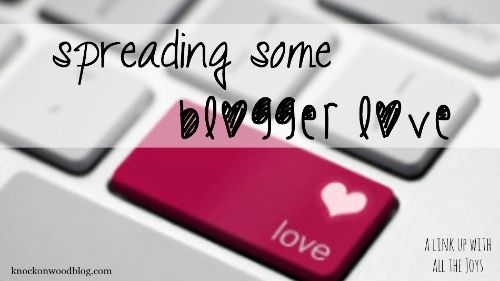 We are Having a Baby BOY!
by Gratefully Inspired | If you haven't noticed yet, I've got babies on the brain and I'm so happy that Denise will be joining the Boy Moms Club!
World's Worst Mother-in-Law Ever
by Coffee + Crumbs | Yup, this will be me.
Book Pairings
by Flowers in my Hair | I'm all about new book recommendations. I added Oryx and Crake to my to-read list based on her pairing with The Hunger Games.
18 Crazy Things I Said While Up With the Baby
by Scary Mommy | Seeing as I apparently birthed a vampire baby who insists on waking every 2 hours to nurse, I needed this so bad. I LOLed throughout the entire thing.
What I Want You to Know about Loving your Adopted Baby
by Rage Against the Minivan | As someone who has always dreamt of adoption, this is something I always wondered about. It was so brave of this Mama to put into words her bonding experience with her adopted child.
Dear Harper
by Hippie at Heart | Candace is one of my favorite bloggers ever. The way in which she writes with such honesty about her journey as Harper and Finley's Mommy is the absolute best.
> > >
Which posts have been your favorite lately?