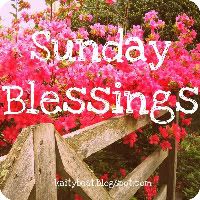 Today's Sunday Blessings are brought to you from the cornfields of Upstate New York. AKA: My hometown. I'm spending the weekend here while my Mommy is hard at work altering my wedding dress, showering me with fun newlywed kitcken necessities, and solving all the wedding-related questions I have floating around in my head while my younger sister and I giggle and act like we're kids again. Needless to say, I have a lot to be grateful for...
My Mom and my sister are my best friends. Hands down. It's fun as I get older to realize how similar I am to my Mom. I have her temper and her figure, her shyness and her youthfulness, her sweetness and her love. She's a wonderful lady who continues to bless me. And then there's Kelly, there's not a soul out there more similar to me than she and she's always good for a laugh or two or five.
Dress? Check. Shoes? Check. Plan for my cake? Check. Just being within proximity of my Mom somehow seems to accomplish wedding to-do's. She's so detail oriented (one of the few things I didn't inherit) that it makes my bridal job description a little less overwhelming.
Absence makes the heart grow fonder. I can't wait for my Boo's snuggles on Monday night!