Linking up with the wonderful Jena today for a little bit of this and that!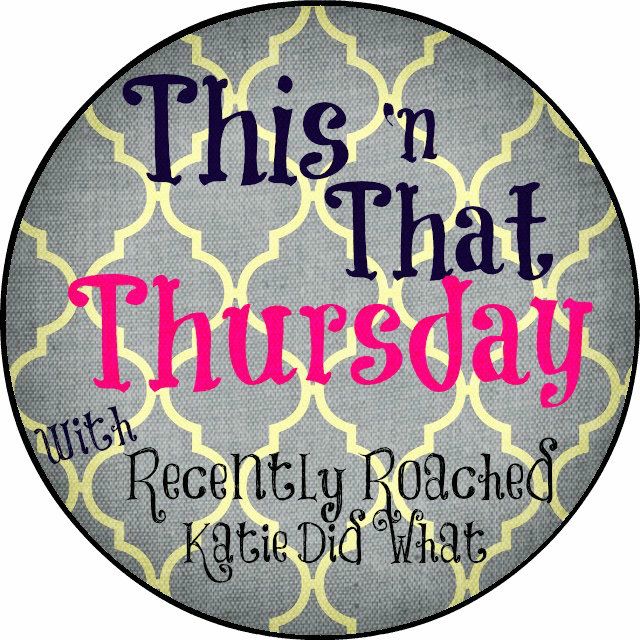 This.
This two jobs thing is taking a lot out of me! I was looking forward to sleeping in this weekend and realized I was scheduled at my second job…All. Weekend. Long. Boo, Giant Eagle! Boo!
That.
Hubby and I haven't been eating very well these past few months. Working a lot, and earning very little has led to some seriously lazy eating habits. I want to start feeling better and eating better, so my foodie self is coming out big time- can't wait to try out some new veg-friendly recipes!

This.
We spent this past weekend in Ohio celebrating my Dad-in-Law's 69th birthday. It left us with a bad case of homesickness and we've started discussing how the heck to move back as soon as possible. Stay tuned for some life changes in the next few months!
That.
I surpassed 300 followers yesterday! I know it's a drop in the bucket for most bloggers, but I am seriously flattered and grateful that any one at all is reading what I have to say!
This.
I've been a redhead for a few weeks now and am still undecided on whether it's a keeper or not. I think I'm going to have the color re-done on Monday and see how I feel about it then. I guess the saying is true: once you go black, you don't go back. Haha!

That.
Despite the fact that I am perpetually exhausted, work is often more frustrating than not and I'm missing family and friends like crazy, Hubby is a constant ray of light that brightens up my gloomiest of days. I'm a moody monster much of the time, but Hubby snuggles can cure any ill!