I've been wanting to highlight some of my favorite blogs for some time now. There are some really special ladies out there who deserve to be recognized for the hard work they put into their blogs and for the love and light they put into the universe. Inspired by
Helene
's
Best Blogger of 2012
, I decided it was finally time!
Some of these ladies are personal friends of mine (though I'm not disclosing which ones; I don't want my bias to deter anyone from checking them out!). Some of these are ladies I've followed since I entered the bloggy world and some are ladies I've only just discovered. Regardless, here are my...

You may not know this about me but I'm obsessed with stalking other people's pregnancies.
I love reading about ladies experiencing Mommyhood for the first time and imagining
what to expect in the years to come.

Here are my favorite blogs, detailing the journey through Mommyhood:
Along the Way with V & J
I was so excited when Valerie announced the news of her pregnancy. This girl is destined to be a fantastic mother: she is sweet, ambitious and a beautiful woman of God. Not to mention she makes the cutest prego lady! I can't wait to meet her baby boy due in March!
Running on Chocolate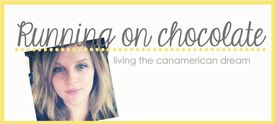 There is much to be admired about this Mama of two. She writes so beautifully and eloquently about her love of fashion, fitness, but most importantly, her family. I never cease to be amazed by how she can seamlessly transition between venting about those toddler tantrums and new baby woes, to radiating absolute unconditional love of her husband and little ones.
Mackey Madness
Megan won me over with her sweet, God-loving, Southern charm. She always blogs with such honesty, optimism and grace. Her blog is an extension of her, so when she was blessed with a baby girl (due this month!) her blog continued to be a reflection of her life. I've loved watching her "bumpdates" and following along as she prepares to welcome her wonderful bundle of joy to the world!
The Mushy Mommy
I found this Mushy Mommy through her blog,
Romance in a Glance
, where she highlighted some awesome weddings and never shied away from controversy at her "Naughty Nook." When she started growing her "little bit" she launched this blog which chronicles her every new experience as a first time expectant Mommy. She's so good at fostering an interactive blog forum and highlighting all the new, exciting things to expect when you're expecting!
> > >
Stay tuned for my next installment of the
next Monday and see which blogs I chose who
keep it real.