Bridal Shower Bargains!
I had a very distinct idea of what I wanted to wear to my bridal shower. Although ModCloth was providing amazing inspiration, I knew there was no way I could afford it. So I headed to Plato's Closet yesterday (of course, where else?) and lucked out because almost everything was 50% off. I got a perfect dress and pair of heels for $17! Amazing!
Granted, not the best pictures I've ever taken, but you get the idea.
The invitations are going out today, so stay tuned for my Bridal Shower theme reveal! :)
Unemployment
As you may have read already, I quit my part-time job recently because...
I GOT A BIG GIRL JOB!
The news that I've been so reluctant to share because it wasn't yet official is finally in place. On July 2nd, I start work as a Program Technician working with the
USDA Farm Service Agency
. I am so thrilled because I feel like this will be an amazing opportunity to weasel my way into the career field that I've been pursuing for a few years now.
Until then, however, I have a couple weeks to bask in unemployment. I figure, I'm going to be working and attending grad school full-time in about two months so I may as well enjoy some peace and relaxation before the stress begins! I already have plans to do lots of belated spring cleaning, get in wedding-ready shape and continue my Summer Reading Challenge. Not to mention, the wedding is less than 3 months away, so I definitely plan to utilize my down-time for wedding planning shenanigans.
Pinterest/Imgur Funnies
I've been finding the best things on Pinterest lately that have had me seriously LOLing, so I had to share:
How I feel at a club trying to impress women
Damn! I forgot the milk.
Finding Bloggers!
Shane at
Whispering Sweet Nothings
came up with the best idea ever! An interactive map to show where people are
blogging coast-to-coast
. Be sure to check it out and add your location to her map!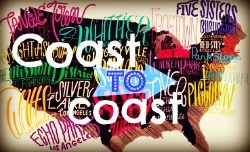 Life is so wonderful at the moment and there's so much change to look forward to in the upcoming months. I'm so excited to see where God takes me, and so blessed to be doing it with the love of my life!