Every Friday, my beautiful friend Erin hosts a segment on her blog entitled, "Finding the Joy Friday." She uses the opportunity to share with her friends and family the many blessings present in her life. (Have I mentioned she's a super smart lady?)
Today, I decided to follow in the footsteps of the amazing
Momma St.J
.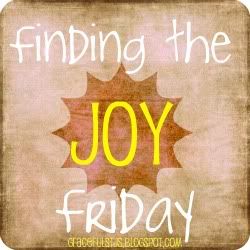 Thanks for the inspiration!
love
It's been over 5 weeks since I've seen my betrothed and to be honest, I've never been more in love. Today he told me that the day Pumpkin Delights came out in Wal-Mart he picked up 2 boxes to bring home to me. Corny as it sounds, I started to tear up because without even trying my hubby-to-be continues to remind me 1) how well he truly knows me and 2) the extent of his love for me.
friends
I recently reconnected with a dear friend. We have one of those relationships where we're able to pick up and support each other as if it hasn't been 4 months since we last spoke. It's pretty great.
family
My Mommy is so incredibly supportive and enthusiastic about all things wedding. It is for this reason among about a billion others that she'll be walking me down the aisle on my wedding day. Blessed as I am to have two fathers, my Mommy has been the one constant in my life, and I honestly don't know what I'd do without her.
Follow in the footsteps of
Momma St.J
and
find the joy
in your life on this beautiful Friday...you'll be glad you did.